B-Movie Blog's Movie of the Year Award 2006: Rocky Balboa
Since this is B-Movie Blog's first year of existence, we are still working out the bugs and creating ideas for posts and such when we can. But we definitely wanted to do a
Movie of the Year
post, and a
B-Movie of the Year
post.
Movie of the Year
goes out to a film released in theaters that year, while
B-Movie of the Year
goes out to a B-movie from that year or any other year. Both were very difficult do decide, but not impossible.
This year,
Rocky Balboa
received B-Movie Blog's Movie of the Year.
It Ain't Over 'Til It's Over.
The final movie of the
Rocky
legacy and B-Movie Blog's
Movie of the Year
,
Rocky Balboa
, was released across the United States on December 20, 2006. When I first saw the trailer for
Rocky Balboa
--I was very excited. Not so much about the movie itself, but mainly the awesome training scenes in it, and the fact that the
trailer
was freaking sweet.
What I expected from
Rocky Balboa
was a disappointment from what I saw on Wednesday--in a good way, that is. I didn't think it would be awesome--but I did think it would be decent. After all: it is the final
Rocky
, it has to be decent. I haven't seen any of the
Rocky
movies in years, but I remember a few being kinda slow in pace.
Rocky Balboa
blew me away. I suppose to the scum of movie go-ers,
Rocky Balboa
was slow in the first half, then progressed into the main event: the actual fight. But to the true movie lover and loyal movie go-er (like me and hopefully you too),
Rocky
wasn't slow at all. You had some cool Philadelphia (I think it was PH...correct me if I'm wrong) shots, good bar scenes, some awesome restaurant/cooking scenes, and who could forget the infamous
"meat hanging from the ceiling in a big factory refrigerator"
scenes?
The fight is
Rocky
(obviously
Sylvester Stallone
) versus newcomer
Mason "the Line" Dixon
(
Antonio Tarver
). So you have this Italian fighting veteran who is a bit slow due to age, but packs a good punch, versus new undefeated World Champion Mason Dixon who relies on his speed and lets be honest, slave-strength to keep his record in shape.
Rocky
is as always, humble, strong and ready for a challenge, while
Mason
is young, arrogant/disrespectful and tough. But will the old saying and veteran movie theme
"Pride comes before the Fall"
be the main factor in determining who wins this fight of a lifetime in
Rocky Balboa
?
The real beauty of
Rocky Balboa
is just that--
Rocky
, the
Italian Stallion
himself.
Sylvester Stallone
is freaking ripped in this movie. It's ridiculous how strong and how big his arms are in this movie. His arms--this is no joke--were pretty much the same diameter of my head. If you weren't aware, Kennedy means "Large Ugly Head" in Irish Gaelic--I'll leave you with that to think about.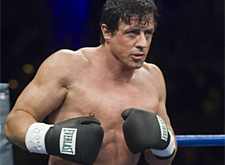 The first half of the movie wows you with at least 3 good motivational/inspirational mini-speeches from
Rocky
, which for the record are freaking sweet. I love hearing
Sylvester Stallone
yell, because it takes me a second to translate from pure testosterone to English.
Rocky
also runs into an old friend from his childhood, and their relationship progresses from there. To basically sum up Rocky's ripped-ness in Rocky Balboa; if Daniel Craig in Casino Royale was a brick, Rocky in Rocky Balboa is a refrigerator (a stainless steel one too, not one of those mini ones).
As I said in some previous posts, I'm not going to give the full review of this movie or what I think "really happened." Just why I think you should go see this movie and what to expect.
So to wrap up this post, was Rocky Balboa the best movie of 2006? I don't know. I personally liked Departed moreso than I did with Rocky Balboa, but those two movies really can't (and shouldn't) be compared--two different movies, different plots and such. Each movie has its advantages and disadvantages. In fact I lied, I like them equally. So why is the B-Movie Blog giving Rocky Balboa movie of the year?
Go see it and find out for yourself. You'll understand.
-A. Kennedy